Clitoral Stimulators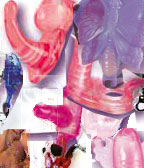 Clitoral stimulators are devices designed to directly stimulate the clitoris. They usually vibrate, but can also have other motions or actions. There are also non-powered clitoral stimulators that work by rubbing against the clitoris when walking or moving around. Most commonly these appear as additional attachments on vibrators (such as with rabbits), but there are also vibrators that are designed exclusively as clitoral stimulators (such as butterflies). Clitoral stimulators come in both strap-on and hand held varieties. The two most popular clitoral stimulators are the rabbits and the butterflies.
"Any toy that vibrates is called a vibrator. Though many people think, at first glance, that vibrators are meant primarily for penetration, most women find that they work best for clitoral stimulation, since that's where most of your nerve endings are. Not sure what will work for you? Experiment with a less expensive model to decide what you like." —Libida
Rabbits are the "power tool" of vibrators. Typically they have three, four, five, or more kinds of stimulation going on simultaneously. Usually they are in the shape of a cylinder vibrator with a little "rabbit" for clitoral stimulation, with additional features added to those two basics. There are also other "animal" vibrators, including polar bears, beavers, and other animals for those who want variety.
Butterflies are vibrators specifically intended for clitoral stimulation. They are shaped like butterflies, with the main body concentrating the vibrations on the clitoris and the wings spreading additional vibrations around the genital region. Some butterflies are extra quiet so they can be worn under clothing and used in public. One woman explained that she had a really rude and obnoxious boss, so she started to wear a butterfly to work every day. Whenever her boss came around, she would turn on the butterfly so she could smile no matter how rude or abusive he became.
"We believe if you have a positive experience with a sex toy, you'll keep coming back for more. If you don't, you may never try another again. I've been selling sex toys for a long time and can assure you that a lot of what's out there is cheaply made (falls apart easily, breaks down, smells bad, or in some cases is just dangerous). Sometimes it's worth it to pay a little more for a toy, or try and find out what toys sell the best, or have been reviewed by other customers." —Anne Semans from Libida.com, author of "The Mother's Guide to Sex", "The New Good Vibrations Guide to Sex", and "The Woman's Guide to Sex on the Web"
care and use
Lubricants can make the use of most toys more pleasureable. There are a number of different lubricants available. Never use oil or petroleum based lubricants with latex toys. Use water based lubricants with toys, as oil or petroleum based lubricants can melt or destroy some toys (especially any toy made of latex or Cyberskin). Lubricants are available in flavored and unflavored varieties. Unflavored lubricants are better quality than flavored lubricants (flavored lubricants are primarily for use with oral sex).
Toys shared between partners can carry sexually transmitted diseases. The safe sex method is to either not share toys are to use a condom on shared toys. Do not move a toy from the anus to the vagina without washing it first, as this can transmit bacteria (even in the the same person).
Do not drop battery powered clitoral stimulators (they often break on impact). Clean clitoral stimulators with warm water and soap after each use, then rinse and thoroughly dry before storage. Do not let water get into the metal parts of a clitoral stimulators. If there is a cord, be careful never to tug on the cord, as it will come loose easily. Battery powered devices are air cooled, if they don't have access to air, they can become hot enough to burn. Do not fall asleep with a clitoral stimulators turned on.
Sex toys should be cleaned, rinsed, and dried after each use. Failure to clean toys can lead to disease. One man reported failing to clean his inflatable doll after each use and then one day discovering maggots growing in it (which taught him to start cleaning his toys). Remove batteries from all toys before storage (leaving the batteries in can result in acid leakage, which can ruin the toy). Vibrators should be wiped clean with a cloth and warm water or alcohol. Do not let water get into the motor or electrical parts of a vibrator. Vinyl attachments can be cleaned in the top rack of a dishwasher. The more expensive materials (such as silicon, Cyberskin, Realskin, Ultraskin, etc.) should be washed in soap and warm water (either an antibacterial soap or mild soap), thoroughly dried, and coated with a light layer of cornstarch before storage (do not use talc on any toy that will be inserted vaginally). Silicon toys can be placed in the top rack of a dishwasher or can be sterilized in boiling water (if there are no latex, metal, or plastic parts and no electrical or motorized parts). Be careful not to crack or tear the surface of a silicon toy, as the tear will rapidly spread and ruin the toy. Rubber and Cyberskin are semi-porous and use of a condom will extend their useful life. Clean rubber, latex, and plastic dildoes and butt plugs with warm water and a mild soap. Thoroughly dry latex, rubber, or plastic toys before storage, but do not use heat for drying. Hand wash leather clothing, harnesses, and devices with warm water and mild soap and thoroughly dry before storage. Leather care products may be used on leather toys, clothing, and harnesses. Store products in a clean, dry, dark location away from direct sunlight or sources of heat. Be careful about placing toys next to each other, as some materials might react and destroy both toys.

clitoral stimulators
rabbits
butterflies
colors
Caucasian: Cum and Get it Vibrator, Virtual Skin™ Ultra Rabbit
White: Alexa's Nubby Satisfier, Arctic Whites Polar Bear Fantasy Vibe, Arctic Whites Snow Bird Fantasy Vibe, Arctic Whites Walrus Fantasy Vibe, Computerized E.T. Vibrator, Panasonic EH2500s Pore Cleanser, Pearl Butterfly, Rockin Rabbit
Crystal White: Crystal Rabbit Vibe
Purple: Alexa's Dome Tipped Satisfier, Alexa's Double Climaxer, Alexa's Nubby Satisfier, Beaver Teaser, Cordless Micro Pleasurizer 2 Inch Penis Extension With Vibrating Clitoral Stimulator, iVibe Rabbit (grape), Gina Lynn's Pearl Beaded Perpetual Pleasure, Ravenous Rabbit, Remote Butterfly, Remote Control Butterfly, Venus Butterfly Masturabtor (purple)
Lavendar: CyberSkin Pleasure Shell, Heart Shaped G-Spot, Panasonic EH2500s Pore Cleanser, Reckless Rabbit, Triad
Pink: Bunny Rabbit Pink, Decadent Indulgence Vibe, F-KIN Rabbit Vibrator MultiSpeed, Flipper Flicker, Futurotic™ Turtle, Heart Shaped G-Spot, iVibe Rabbit (strawberry), Jack Rabbit, Pearl Panther, Pussy Pleaser, Rabbit Pearl, Remote Control Sea Shell, Venus Butterfly Masturabtor (pink)
Red: Angel's Touch Apple Cinnamon, Clit Kisser, Jack Rabbit, Rechargable Rabbit, Translucent Butterfly Vibe
Orange: Alexa's Double Climaxer, iVibe Rabbit (tangerine)
Yellow: Micro Butterfly
Green: iVibe Rabbit (lime)
Cyan/Aqua: Alexa's Starlight Tantalizer Vibe, Micro Dolphin
Blue: Diving Dolphin, iVibe Rabbit (blueberry), Lover's Arousal Venus Butterfly, Micro Dolphin, Techno Rabbit, Waterproof Rabbit Vibrator
See also: colors.
special features
For couple's use: Diving Dolphin, Reckless Rabbit, Rockin Rabbit
Remote control: Remote Butterfly, Remote Control Butterfly, Remote Control Sea Shell
Waterproof: Waterproof Rabbit Vibrator
Flashing Lights: Alexa's Starlight Tantalizer Vibe
prices
most popular items
The following are the ten most popular clitoral stimulators, based on the number of visitors per page. This list does not include recently added items.

[ home ] [ rabbits ] [ butterflies ] [ remote control ] [ strap-on harnesses ] [ dildoes ] [ double dildoes ] [ glass dildoes ] [ hands and fists ] [ vibrators ] [ massagers ] [ sleeves ] [ eggs and bullets ] [ clitoral stimulators ] [ waterproof vibrators ] [ anal probes and butt plugs ] [ beads ] [ breast pumps and nipple exciters ] [ balls ] [ erotic jewelry ] [ cock rings ] [ bondage ] [ lubricants, oils, and creams ] [ barriers ] [ hygiene ] [ erotic clothing ] [ transvestite items ] [ kits ] [ artificial vaginas ] [ male masturbators ] [ dolls ] [ penis pumps ] [ novelties ] [ DVDs ] [ videos ] [ books ]
some of the sources on the web:

premium sites

discount sites

general sites

Shopping through these links may result in a small percentage of your purchase helping keep this site on the web.
(Many of the sites have tricky rules, so we don't always get a percentage, but it can't hurt to try.).
privacy statement
Unlike most web sites, we inform our visitors about our privacy policy. BondageGrrl.com does collect generic information from visitors for statistical analysis (nation, browser, operating system, screen resolution, and monitor size) — any web site you visit can and probably does collect this information (and more). All individual identification information is immediately discarded (except for subscription information if you join our mailing lists). Information is never sold to outside mailing lists or any other purposes.
Copyright © 2001, 2002, 2003 BondageGrrl.com
[ home ] [ rabbits ] [ butterflies ] [ remote control ] [ strap-on harnesses ] [ dildoes ] [ double dildoes ] [ glass dildoes ] [ hands and fists ] [ vibrators ] [ massagers ] [ sleeves ] [ eggs and bullets ] [ clitoral stimulators ] [ waterproof vibrators ] [ anal probes and butt plugs ] [ beads ] [ breast pumps and nipple exciters ] [ balls ] [ erotic jewelry ] [ cock rings ] [ bondage ] [ lubricants, oils, and creams ] [ barriers ] [ hygiene ] [ erotic clothing ] [ transvestite items ] [ kits ] [ artificial vaginas ] [ male masturbators ] [ dolls ] [ penis pumps ] [ novelties ] [ DVDs ] [ videos ] [ books ]